For over 35 years, Lecore has been at the forefront of the design, manufacture and supply of storage tank equipment, in and around South Africa.
From our range of Flame Arrestors and PV Breather Valves, to complete API 2000 venting calculations, we are well equipped to ensure that our customers receive the best service from our team, at all times.
Let us help you with your tank safety requirements.
Vent to Atmosphere P/V/R valves. These valves provide pressure and vacuum relief. A safe internal working pressure to prevent the routine expulsion of waste gas into the atmosphere will be maintained. Sizes 2″, 3″, 4″, 6″, 8″, 10″ and 12″ available.
The Lecore Flame Arrestor is designed specifically to meet the requirements of the Petro-Chemical, Oil and Chemical Industries to prevent propagation of an external flame into the storage tank vapor space.
Lecore Series EPV Emergency Pressure Vents are designed to provide emergency relief capacity beyond that furnished by the operating vent on the tanks. The Series EPV vents do not provide vacuum relief.
Nitrogen Blanketing Regulators
Lecore's range of pre-designed, standardized and competitive vapour recovery units encompasses more than 30 years of experience and a record covering more than 300 units installed worldwide.
The RA Series of rupture disks are complementary designs to cover the majority of rupture disk applications and are designed to be used in the RAH type holder.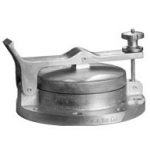 Dip hatches' main function is to allow easy access to storage tanks while controlling vapor losses. Lecore Dip Hatches are supplied with "O" ring seats in nitrile rubber for easy maintenance.
The Slot Dipping Device has been designed to provide convenient and safe methods for dipping, sampling of storage tanks containing volatile and hazardous products.